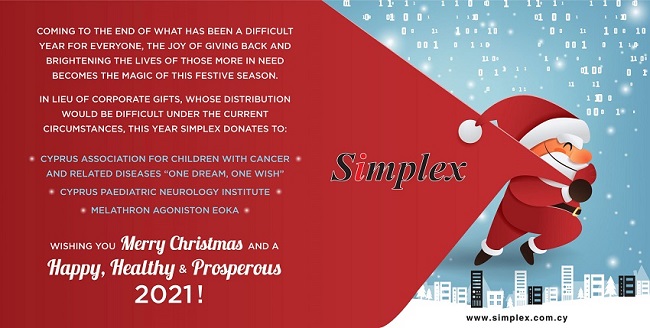 Coming to the end of what has been a difficult year for everyone, the joy of giving back and brightening the lives of those more in need becomes the magic of this festive season.
Under the current circumstances and as part of its Corporate Social Responsibility strategy, Simplex Software & Internet Services Ltd, Cyprus' world-class data center operator and leading IT integrator, is pleased to announce donations to the below organizations, in an effort to benefit the society and contribute for non-profit causes:
Cyprus Association for Children with Cancer and Related Diseases "One Dream, One Wish", focuses on the fulfilment of the best wishes of the cancer-afflicted children, the economic support of their families and the psychological support of the children and members of their immediate environment.

Cyprus Paediatric Neurology Institute (CPNI), is a specialized centre for Paediatric Neurosciences offering high quality care to children with neurological diseases. Simplex's donation will be used for the purchase of a reusable EEG cap which reduces younger children anxiety and stress during the electroencephalogram procedure, making the investigation and diagnosis process easier.

Melathron Agoniston EOKA, specializes in the rehabilitation of the nervous, musculoskeletal and vascular system while it also offers a retirement home and plenty of out-patient medical services.

About Simplex
Established in 2005, Simplex is Cyprus' leading provider of world-class premium carrier-neutral data center services and a leading enterprise IT integrator while it also provides ICT consulting and web/software development. All services of the company are ISO 9001 and ISO 27001 certified, demonstrating the company's commitment to quality and security.
Through its complete product and services portfolio and partnerships with leading vendors, Simplex is a single point of contact for all the ICT needs of an enterprise and has become the global IT partner for organizations from around the world, coming from various industries/markets that have trusted their IT operations to Simplex.
For more information about Simplex please visit www.simplex.com.cy.